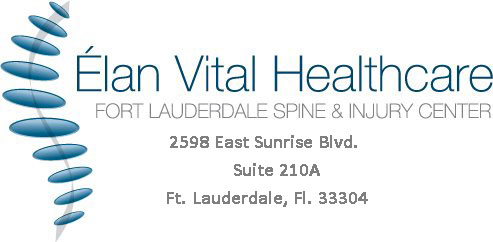 Located at the Galleria Mall in the Regus Executive Office Complex
Our Fort Lauderdale Chiropractic Healthcare Center offers:
Chiropractic - Pain & Stress Relief Therapy
and has extensive experience in
Personal & Car Accident Injury Cases
CALL: 754 301-8882



Élan Vital...
a French term which can be translated as

"life force,"...

Our practice relies heavily on the belief that Chiropractic treatment, which focuses on the relationship between the nervous system and health, utilizes the body's innate ability to heal itself and unleashes the "life force" we all contain within.

This chiropractic web site has been designed to provide our patients, potential patients and Fort Lauderdale area residents with valuable information on our practice, doctor and staff, services and the benefits of chiropractic care and other natural methods of maintaining health and wellness. Our office has been treating members of the Fort Lauderdale community for over 10 years! We utilize a comprehensive combination of alternative treatments designed to alleviate pain, improve function and restore health to patients of all ages. Our friendly, knowledgeable and qualified staff takes pride in providing our patients with the highest quality care in a comfortable, stress-free, family-oriented environment.
Meet the Staff

Dr. Peter V. Matrale
Chiropractic Physician
Dr. Matrale is a Licensed and Board Certified Chiropractor. Dr. Matrale holds a BA Degree in Psychology from the University of Missouri and a Doctorate of Chiropractic degree having graduated cum laude from Life University. Having studied, trained and participated in clinic work in the Atlanta area, he has been listed as an expert witness to help attorneys better understand the injuries their clients have experienced as a result of their accident due to his extensive knowledge of treating injuries. Dr. Matrale looks forward to having you achieve pain free health through his Chiropractic skills.

"As a Chiropractor...
My mission is to educate and treat for health and wellness
and provide pain relief to our FORT LAUDERDALE community with the highest quality chiropractic care in the spirit of giving and serving"

Dr. Matrale has been awarded the 2009 "Talk of the Town" award for Excellence in Patient Satisfaction.




Dr. Matrale has been awarded the

"Best of 2014, Fort Lauderdale" in the Chiropractors category!


Dr. Matrale is a member of this growing network of healthcare professionals who are dedicated to helping you get the care you need
at a fee you can afford.

To view Dr. Matrale's complete curriculum vitae click on:
Dr. Matrale's Curriculum Vitae






P

ain & Stress Relief Therapy ....The

primary goal in a session

is

to promote healing, relaxation, and to help the

patients

"let go" of the stress of our fast paced world. All treatments are customized to accommodate specific needs, body types and conditions of all kinds.







Make Dr. Matrale your Fort Lauderdale Chiropractic "back doctor" choice for all your chiropractor wellness healthcare needs.




The ability to spend ample time with our patients combined with our expertise




gives you the

most beneficial form
of chiropractic care.






Holistic and Alternative Medicine combined with our full service chiropractor care and knowledge makes us the health care center for you to be
PAIN FREE!



Located at the Galleria Mall in the Regus Office Complex




Serving Fort Lauderdale, Wilton Manors, Oakland Park, Coral Ridge, Victoria Park
and surrounding zip code areas 33304,33305

,

33308,33334

Ft. Lauderdale Chiropractic Care

/

Chiropractic Care

Physiotherapy

Electric Muscle Stimulation

Ice/Heat Therapy

Intersegmental Traction

Rehabilitation Therapy

Natural & Effective Pain Relief

Orthopedic Braces
Lumbar Supports/
Cervical Pillows & Other Products




/